San Diego, CA - October 2005 - Paralan Corporation, a leader in SCSI innovation, announced today the release of its iS500 Family of iSCSI to parallel SCSI Bridges.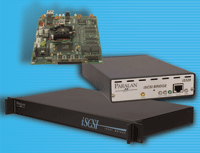 For organizations using or considering an IP SAN (Internet Protocol Storage Area Network), Paralan's iS500 Family of iSCSI Bridges™ will easily connect parallel SCSI devices to an IP SAN and merge "Direct Attached Storage" (DAS) systems and devices into networked iSCSI storage environments.
For organizations not using a SAN, Paralan's iS500 Family of iSCSI Bridges™ will easily and inexpensively locate storage and backup SCSI devices anywhere for disaster recovery or remote backup.
Paralan's iS500 Bridges are available in enclosed box, rack mount and board versions, and offer many unique features including:
• Fast and reliable wire speed iSCSI throughput.
• Easy installation including an initial IP address and the capability to be used in DHCP over TCP/IP environments.
• Automatically detects every parallel SCSI device connected to the 68-pin SCSI interface upon power up.
• Field upgradeable to adapt to future expansions of the iSCSI specifications, and compliant with iSCSI and SCSI interface standards.

• Built-in Graphical Interface addressable by any web browser through the Gigabit Ethernet port.
• At-a-Glance status LEDs for SCSI Bus Activity, Self Diagnostics, Power, Gigabit Ethernet Link Status and Gigabit Ethernet Activity.
In addition, the iS500 Bridges are transparent to S/W, H/W and Operator, are available in Ultra160 LVD/MSE and HVD Models, offer Plug-and-Go installation, support all SCSI device types, and are FCC, UL, cUL, and CE compliant.
Quantity pricing is available as low as $995.
About Paralan Corporation
As pioneers in developing SCSI technology, San Diego-based Paralan is the most trusted name in SCSI Bus Enhancement. The company's high-quality, reliable product lines include iSCSI Bridges™, SCSI Extenders, RegeneratorRs™, and Converters, as well as premium cables, testers, and switches. Founded in 1988, Paralan provides both off-the-shelf and custom products that are embedded in computer installations worldwide, making SCSI work. With less than a 0.1% product return rate, Paralan has developed a reputation for superior reliability and unparalleled quality.
Contact: Paralan Corporation
info@paralan.com
Phone: (866) 447-6293 or (858) 560-7266